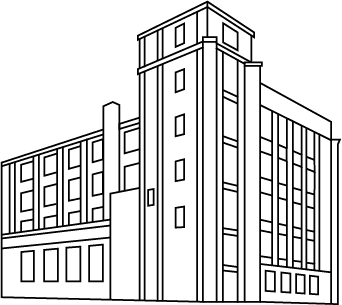 Josef Schwarda Knitting Mill
In Krupka (German Graupen), the entrepreneur Josef Schwarda choses a new style of architecture and a special location when building his knitting factory: High above the valley, the large windows offer a unique view of the Bohemian Mittelgebirge. 
The front façade of the factory is covered in clinker bricks with an elegant curve. On the roof of the stair tower, the name "Schwarda" is emblazoned in huge letters on an extra scaffolding. The production of stockings and socks isl at first quite successful, but the factory has to close in the 1930s. During the war, aircraft parts are produced for the German Luftwaffe, followed after the war by tin toys, scooters and children's bicycles. 
In 1953, a state school for mechanical engineering is founded in the building. To this day, young engineers, electricians specialists for building construction study here. The connection to the school offers enormous potential not only for Josef Schwarda's factory - practical experience and sensitive caretaking of the building can be studied on site. The elegant curvatures in the clinker façade of the stair tower alone are wonderful examples of craftsmanship and fascinating to this day, not only for aspiring bricklayers. 
Adresse:

Na Příkopě č. p. 77, Krupka 

Architekt:

unknown

Bauzeit:

1925

Hinweis:

in use