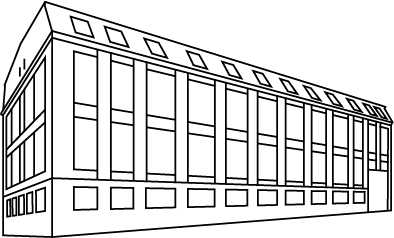 Dressler & Marx weaving mill
When the industrialisation of the 19th century hits the small village of Berthelsdorf, several weaving mills start their business. One of them is the company Dressler & Marx, which soon exports worldwide and expands quickly. Among other buildings, a modern production hall is constructed in 1927 at an impressive pace: while the concrete ceilings are still being poured upstairs, on the ground floor the first weaving machines are already rolling into the building.  
The huge windows provide the best lighting for the production of terry cloth, up to a thousand bathrobes leave the weaving mill every day. There is a brief interruption in 1944, but textile production starts up again immediately after the war. In 1972, the weaving mill becomes part of VEB Frottana Großschönau until it has to close in 1990. Numerous people from Berthelsdorf lose their jobs, the former factories are empty and gradually demolished. 
The wonderful production building of the weaving mill remains, but after years of vacancy and vandalism it is in urgent need of renovation. With its modern design, it remains a real eye-catcher in the midst of Umgebinde houses and rolling hills. The property behind the weaving mill is huge, the surroundings idyllic and, with numerous tourist destinations in the vicinity, made for a relaxing holiday. 
Adresse:

Berthelsdorf

Architekt:

unknown

Bauzeit:

1927

Hinweis:

Vacancy