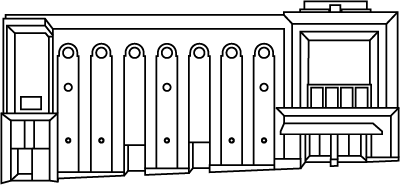 Varšava Cinema
The oldest cinema in Liberec opens in 1908 with 238 seats. But in 1922, it has to make way for a new building: a modern art deco style cinema with a parking garage for 14 cars on the upper floor. On the inside, the auditorium features an orchestra pit in front of the screen and a huge balcony with additional seats. 
Under the National Socialists, the cinema is temporarily called "Kapitol". After 1957 it is nationalised, and changes its name again to "Svoboda" (english freedom) in the 1960s. Since the 1970s, the cinema has borne its current name: Varšava. In 2008, it is closed due to lack of financial success, the building suffers from vacancy in the following years.  
When the city is planning to sell the cinema in 2012, "Zachraňme kino Varšava" (english "Save the Warsaw Cinema") is founded and finally rents the cinema for a symbolic price from the city. With the first renovation efforts in 2015, a beautiful café is created in the foyer. Thanks to the great commitment, the Varšava now hosts over 180 events a year and a wide-ranging programme. You can rent the rooms for events and in this way contribute to the further renovation with your own wallet.  
Adresse:

Frýdlantská 285, Liberec

Architekt:

Fritz Noppes und Josef Effenberger

Bauzeit:

1923

Hinweis:

in use