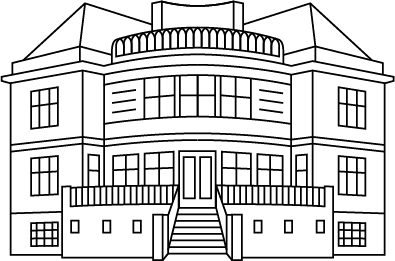 Schneider residence
The entrepreneur Fritz Schneider builds his new home in 1929 on a corner plot north-east of the centre of Jablonec nad Nisou. At first glance, the building appears classically bourgeois; in fact, it is an interesting example of the combination of traditional architecture and modern expressionism. Above all, the materials create a link to the traditional architecture of the region. 
With the expulsion of numerous German-Bohemian citizens, also the Schneider family has to leave their home. Their house is nationalised and turned into a kindergarten. At the beginning of the 1980s, there are some rather insensitive alterations, and finally the building falls empty. In 2010, it is put on the central list of cultural monuments of the Czech Republic. At this time, the doors, window sills, the ornately decorated heating panels and the extremely dynamic curved staircase to the upper floor are still original.  
In 2012, a new owner takes on the building and plans an elaborate renovation with the greatest possible proximity to the original condition. The potential of the house lies in its exemplary renovation. It is an wonderful example to inspire owners of listed buildings and to share the experience gained. This exceptionally stylish residential house with its beautiful garden has been turned back into the jewel it once was. 
Adresse:

Jablonec nad Nisou

Architekt:

Rudolf Günter

Bauzeit:

1929

Hinweis:

Private use