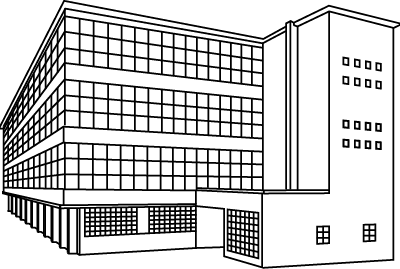 Schindler Silk and Knitwear Factory
The traditional Schindler factory in Krásná Lípa (German: Schönlinde) has been in business for over 168 years - without any major interruptions. Stefan Schindler founded his knitting factory in 1854, but with its rapid growth the company soon needs more space and hires the architect Hans Richter to plan a new production building.  
The modern reinforced concrete construction allows for long strips of ribbon windows that even expand around the corners. The interiors are flooded with light; for the neighbours, the four-storey building is simply "the glass box". Due to the economic crisis, the company has to file for bankruptcy in 1937. After nationalisation and re-privatisation in 1994, the company has been advertising under the old name "Schindlerova pletárna" again since 2022.  
The building has been preserved almost in its original condition to this day. The original windows on two floors were covered with panels on the inside. However, this measure means that there is no daylight today, and a more compatible solution is being sought. For the owners, the future lies in continuing and communicating the long tradition. This calls for new ideas and cooperation. 
Adresse:

Kyjovská 998/79, Krásná Lípa

Architekt:

Hans Richter

Bauzeit:

1929

Hinweis:

in use