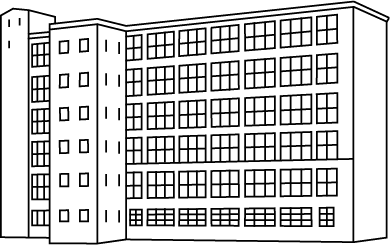 August Robert Wieland Stocking Factory (ARWA)
In the 1920s, stockings from Saxony are a huge success and big export. In 1891, August Robert Wieland lays the foundations for the success story of the small Erzgebirge town of Auerbach. From 1927 on he uses the acronym ARWA (August Robert Wieland Auerbach) and exports stockings worldwide. The huge company premises still display all facets of industrial architecture of the early 20th century. In the particularly modern production hall from 1934, huge windows almost completely break up the façade and provide the interior with plenty of daylight. 
During the war, ARWA produces aircraft parts for the Luftwaffe, followed by expropriation and nationalisation. Even today, the words "volkseigen" and "Esda" (Erzgebirgische Spezial Damenstrümpfe Auerbach) can be spotted on a narrow plastered strip between the windows. After Germany's reunification, the Treuhand takes over and production continues until 2013.  
Since then, large parts of the complex have been vacant. The factory's cultural centre, built in 1972, is revived as an event location and room for several sports groups. The potential of the entire complex lies in its size and the versatile space it offers. From enormous hall to garage, from office to the event venue: this place has it all, plus space for much more. 
Adresse:

Hauptstraße 76, Auerbach i.V.

Architekt:

Georg Böttcher

Bauzeit:

1934

Hinweis:

Vacancy/in use