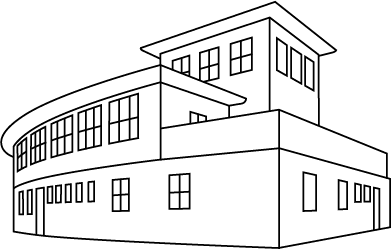 Silberteichbaude
The village of Seifhennersdorf is located in the south-east of Saxony, directly on the Czech border. In the late 1920s, the village builds a public outdoor pool in place of several former carp ponds. In 1937, the Silberteichbaude restaurant is added to the pool. The building, designed by local building contractor Ella Nierich, features a modern shape using regional materials. Inside, there is room for 250 people, on the surrounding terraces another 1000 guests can enjoy their meal or a dring.
In 1952, the GDR's trade organisation for restaurants (HO-G) takes over the place. In the 1990s, the swimming area is refurbished, but unfortunately the Silberteichbaude has to close. In 1997, when even demolition is on the cards, a couple of supporters found a friends' association for the building and put enormous effort into the renovation.
Today, the Silberteichbaude can be rented for private events, but the future of the entire facility is uncertain. With numerous guests from the neighbouring Czech Republic, the whole place could become a wonderful example for cross-border tourism. From the terrace you can let your gaze wander across the border, which is hidden somewhere between the rustling trees of the Burgsberg (Czech: Hrádek).
Adresse:

Volksbadstraße 2 a, Seifhennersdorf

Architekt:

Ella Nierich Company

Bauzeit:

1937

Hinweis:

Vacancy/in use