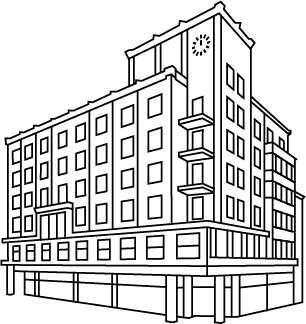 Commercial building and Café Grand
The Italian insurance company Riunione Adriatica di Sicurtà is responsible for several modern commercial buildings in the young state of Czechoslovakia in the 1920s. In 1929 a branch is established in Ústí nad Labem (Deutsch: Aussig on the Elbe), housed in a modern office building with an elegant café. 
The new building, designed by architect Fritz Lehmann, is quite metropolitan with its six floors, topped by a tower with an illuminated clock. The clinker brick façade is a real eye-catcher: curved pilaster strips give the façade a sort of rhythm and dynamism, and at the same time the clinker brick is resistant to the city air, which is quite polluted by the heavy industries. In addition to modern shops, offices and flats, the mezzanine houses the extremely popular Café Grand.  
The house survives the war relatively unscathed, but there are some alterations, especially in the 1990s: the plinth is rather insensitively covered with granite slabs, the original wooden windows have to give way to modern plastic ones. Today, the residential and commercial building is privately owned. With the Czech representation of the Elbe-Labe Euroregion, which coordinates German-Czech cross-border projects from here, the house is now a real TOPOMOMO place. 
Adresse:

Velká Hradební 2, Ústí nad Labem

Architekt:

Fritz Lehmann

Bauzeit:

1929

Hinweis:

in use