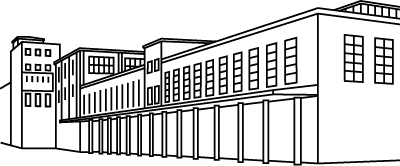 Warehouse building of the Carl Werner printing works
In the 1920s, the Carl Werner printing works flourish in Reichenbach alongside the Haun & Sohn company and soon become one of the largest printing works in Germany. The modern company headquarters designed by Felix Sahr & Son architects is built in 1929 and is extended several times from 1934 onwards, including a warehouse building with a garage complex.  
The large-format colour postcards produced by the printing works after 1933 are also used for Hitler's propaganda machine. During the war, the Fichtel & Sachs company moves in and builds bicycle parts and clutches for the armaments industry; the days of the print shop are finally over. After 1945, the company becomes VEB RENAK. When the Treuhand takes over in the 1990s, a few former employees secure the brand name under which bicycle parts are still produced today as RENAK GmbH in Chemnitz.  
The takeover leads to the fragmentation of the complex: the connections between the buildings are cut and the imposing main building falls to a Chinese bicycle manufacturer. But the former warehouse is saved by a committed citizen of Reichenbach who sees great potential in his building and a lot of space for alternative concepts. Creative pioneers are welcome here! 
Adresse:

Dammsteinstr. 8, Reichenbach i.V.

Architekt:

Büro Felix Sahr & Sohn

Bauzeit:

1934

Hinweis:

Vacancy