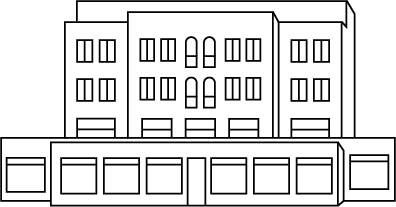 Café Stern
At the beginning of the 20th century, Ústí nad Labem (German: Aussig on the Elbe) develops into one of the most important industrial centres in Bohemia. The population grows rapidly, the neighbouring village of Klíše is incorporated in 1898 and becomes a very modern district of Ústí. 
Around 1934, a large park and a new residential and commercial building are built at the star-shaped main traffic junction in Klíše. The building is designed by local architect Franz Ludwig. In addition to the café on the ground floor, the building houses a restaurant and a pub in the basement, which still exists today. The apartments on the upper floors have a magnificent view over the park. 
After the war, the German building owners are expropriated. The name Café Stern is turned into Café Hvězda, and at the end of the 1960s the building is nationalised. In 1992, a private person buys the building, but a few years later the last tenants move out and the upper floors fall vacant. In 2000 some repairs and alterations change the original appearance. But the redevelopment is delayed due to complicated ownership. With its location next to the park, new flats, the shops that are already rented out and the old lettering on the façade, the house has the potential to become a central place in Kliše again. 
Adresse:

Štefánikova 50, Ústí nad Labem

Architekt:

Franz Ludwig

Bauzeit:

1934

Hinweis:

Vacancy/in use