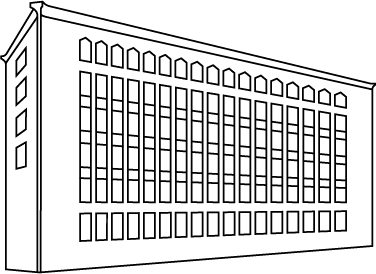 Extension of the stocking factories Robert Götze and Friedrich Tauscher
At the beginning of the 20th century Oberlungwitz becomes the most successful "stocking town" in the Ore mountains ("Erzgebirge"). Especially the factories of Robert Götze (ROGO) and Friedrich Tauscher (FTO) are internationally successful. In 1928, both companies invest in new buildings directly next to each other. The Chemnitz architect Friedrich Wagner-Poltrock is responsible for both buildings, bringing modernism to Oberlungwitz.
The two colossal clinker brick buildings break with previous standards and tower over the entire town. The huge complex survives the war without major destruction. In 1949, the two companies are merged into the "VEB Feinstrumpfwerke Oberlungwitz". Thanks to nylon fibres, called "Dederon" in the GDR, and modern circular knitting machines, the hosiery business in Oberlungwitz is more successful than ever. In 1990, the VEB is closed down, administered by the Treuhand and finally privatised.
Today, the whole complex is largely in good condition and ready for new ideas, because Oberlungwitz is looking for a new centre: trade, small-scale commerce and gastronomy are to move into the old factory halls.
Adresse:

Hofer Straße 32, Oberlungwitz

Architekt:

Friedrich Wagner-Poltrock

Bauzeit:

1928

Hinweis:

Vacancy