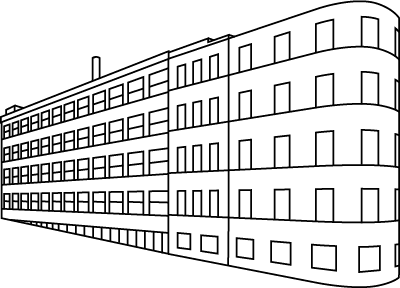 Printing house Haun & Sohn
In 1844 in Reichenbach in the Vogtland region, Christian Friedrich Haun starts his own print shop and becomes a newspaper publisher. With his son he eventually specialises in high-quality printed products and packaging for the cigarette and food industries.
The printing presses get bigger and bigger, resulting in enormous loads on the ceilings. In 1929 the company buys an empty textile factory, which is almost completely demolished and replaced by a modern building made of reinforced concrete with large windows. From afar, the building by the Dresden architects Lossow & Kühne resembles a giant steamship in the centre of the city.
After repression under the Nazis and expropriation after the war, the Haun family leaves Reichenbach. The printing house is merged with the large-scale printing works Werner to form VEB Druckwerke Reichenbach. A number of alterations follow, which significantly change the original appearance of the building. To this day, printing continues in the historic production halls without major interruptions. The owner would like to reconstruct the original shape, renovate the factory and then sensitively expand it - an enticing prospect.
Adresse:

Zwickauer Str. 68, Reichenbach i.V.

Architekt:

Lossow and Kühne architects

Bauzeit:

1936

Hinweis:

in use