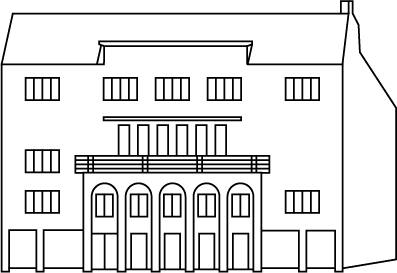 Friedrich Cinema
In the 19th century, the small town of Aš in the far west of today's Czech republic develops into a town with a flourishing cultural life. In 1930 an impressing cinema with 700 seats is built in the middle of the town. The owner is a woman: Greta Friedrich, who hires the architect and cinema specialist Richard Brosche for the design. 
Originally, the building is located in a narrow alley with no room for a spacious flight of stairs. Instead, the entrance is moved behind the high arcades that protect the area from wind and rain. After the war, numerous houses in the vicinity are demolished - the narrow alley becomes Masaryk Square. The city continues to run the cinema until 1997, after which its condition deteriorates and demolition becomes increasingly likely. 
But in 2016, a member of one of the oldest Czech circus families buys the cinema and dreams of turning it into the Berousek Variety Theatre. The idea has potential: Aš lies in the centre of the European spa region. In the future, well-off international spa guests could attend the evening show in the Aš Variety Theatre after their daily Bade- und Trinkkur. There is no date for the opening yet, but the idea of a dazzling theatre in the heart of the city is eagerly anticipated. 
Adresse:

Masarykovo nám. č.p. 1995/16, Aš

Architekt:

Richard Brosche

Bauzeit:

1930

Hinweis:

in renovation