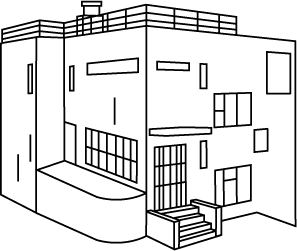 Alois Metelák's residence
Since the 1920s, the town of Železný Brod has been famous for its glass products. With the architect and glass artist Alois Metelák as headmaster, the local glass school quickly gains international recognition. As an architect, Metelák designs a new residential quarter on the slope above the school,for which he develops four house types with a cube as the basic form.  
He completes his own residential building in 1931. The house has several small balconies, a loggia and an additional sun deck on the flat roof. The sun also floods the interior through windows in every conceivable format. After the war, Metelák is removed as headmaster in 1948, but he lives in the house he designed until his death in 1980. His glass artworks are now coveted collectors' items and can be found in museums around the world.  
After Metelák's death, several alterations on the ground floor change the shape of the building, and in 1990 it is sold. The new owners set up a holiday flat on the lower floor for guests of the glass city. The small flat is currently being renovated and, with the right furnishings, could become a wonderful domicile for architecture and Metelák fans in the future. 
Adresse:

Vlastimila Rady čp. 532, Železný Brod

Architekt:

Alois Metelák

Bauzeit:

1931

Hinweis:

Private use