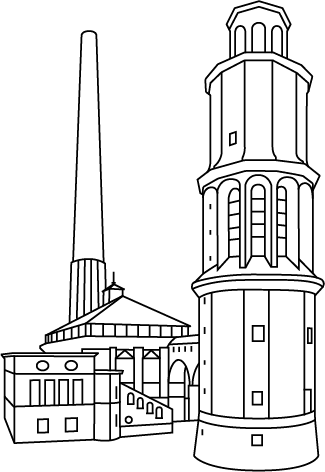 Coal and water tower
Vratislavice nad Nisou is today a district of the city of Liberec. During the industrialisation, the Ginzkey company, among others, is established here. Within a few years the company develops from a simple weaving business into the centre of the carpet industry. Starting in 1916, the company errects a power station with boiler house and a coal and water tower to generate its own energy. The tower contains a gigantic coal hopper made of reinforced concrete and an just as huge water tank above it. The viewing platform on top opens up a breathtaking view of the landscape at a height of over 52 metres.
In the 1920s, the company reaches the peak of its success, weaving carpets even for the Waldorf Astoria Hotel in New York. After the Second World War, the Ginzkey family is expelled and the company nationalised. A company called Bytex continues to produce in the buildings until 1990. After the privatisation of the site in 1991, the tower and boiler house remain unused at first.
But in 2015, several young people found the association AvantgArt. They free the tower from several tons of rubble, pigeon droppings and rubbish and achieve the first milestone: the tower and boiler house are being listed as monuments. Today, AvantgArt opens the doors regularly for cultural events, lectures and films. If their ideas and commitment keep coming like this, the tower could become an extraordinary place with a fantastic view and an exciting future.
Adresse:

Rumburská, Vratislavice nad Nisou

Architekt:

Leopold Bauer

Bauzeit:

1919

Hinweis:

Vacancy/in use